The Honorable Emily Miskel (R)
Last modified on: 02-11-2022 10:14:42
---
General Information
Home Town: McKinney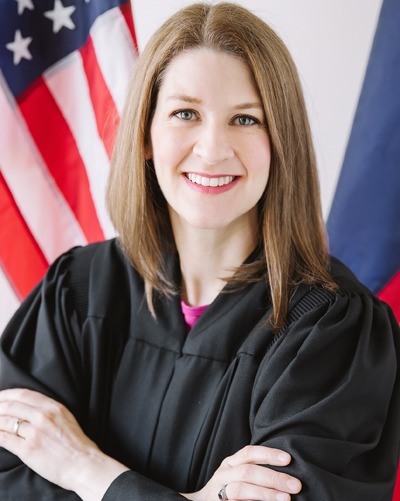 ---
Personal Information
Judge Emily Miskel has served as judge of the 470th district court of Collin County, Texas, since the court was created in 2015. During the pandemic, she served as the Local Administrative District Judge of Collin County, keeping our courts open safely throughout the pandemic.

Judge Miskel received her law degree from Harvard Law School and is double board certified by the Texas Board of Legal Specialization. She graduated in the top 15% of her class from Stanford University with a Bachelor of Science in Mechanical Engineering. After graduating, she worked in the oil and gas industry as a project engineer for several years, designing and building pipelines. She was a licensed Professional Engineer (P.E.) in Mechanical Engineering in California from 2005-2011.

Judge Miskel is the Chair of the Civil Justice Committee for the Texas Judicial Council, the policy-making body for the state judiciary, and she serves on the Supreme Court Advisory Committee. She also serves on the Pattern Jury Charge Oversight Committee and the Computer & Technology Law Council for the State Bar of Texas. She frequently speaks on legal technology topics such as electronic evidence, e-discovery, data theft, interception of communications, and online impersonation.

In 2020, the Chief Justice of the United States Supreme Court presented her with the William H. Rehnquist Award for Judicial Excellence from the National Center for State Courts.

---
Other Offices Held