Megan Graham, M.A.
Last modified on: 02-09-2022 12:09:42
Entered Office: 09-18-2018
Term Ends: 02-01-2023
---
General Information
Home Town: Lubbock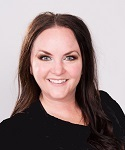 ---
Personal Information
Megan Marie Graham, M.A. (Lubbock) serves as the Private Event Director for The Houston Club where she is responsible for community and member relations, event management, and sales. Megan is a certified yoga instructor and owns Soirees By Megan, an independent signature event design. She has more than 15 years of non-profit fundraising, sales, and event management experience.

Megan has a Master of Arts in Applied Sociology from Texas State University and a Baccalaureate of Arts in Criminology from Texas Tech University.