Franklin D. R. Jones, Jr.
Last modified on: 02-13-2018 13:45:01
Entered Office: 01-2001
Term Ends: 08-31-2015
---
General Information
Profession: Attorney
Home Town: Harris County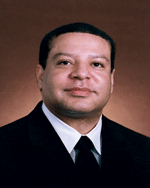 ---
Personal Information
Frank Jones was appointed to the GCA Board of Directors in December 2001, and elected Chairman in September of 2014. Jones earned his undergraduate degree from Rice University in 1984 and his Doctor of Jurisprudence from the University of Houston Law Center in 1995. He is currently Shareholder at the law firm of Greenberg Traurig LLP. His clients have varied from the Harris County/Houston Sports Authority to hospital districts and industrial development corporations. Mr. Jones is also Special Counsel to the Harris County Sports & Conventions Corporation in various legal matters related to the development and construction of sports and convention facilities at Reliant Park (formerly the Astrodomain Complex). Memberships include the State Bar of Texas, National Association of Bond Lawyers, Houston Bar Association and the Houston Lawyers Association.