Billy M. Atkinson, Jr.
Last modified on: 04-11-2019 08:46:01
Entered Office: 03-24-2011
Term Ends: 02-01-2023
---
General Information
Profession: CPA
Home Town: Sugar Land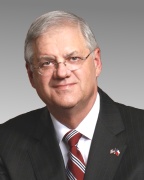 ---
Personal Information
Atkinson is a certified public accountant (CPA) with over 39 years of public accounting experience with PricewaterhouseCoopers LLP, where he was an audit and risk management partner in Houston through his retirement in 2011. He has served on several private company boards and is a past chair of the Private Company Council (PCC), the National Association of State Boards of Accountancy and the Texas State Board of Public Accountancy. He has served as a member of the AICPA's Governing Council, is a past executive board member of the Texas Society of CPAs and served as president of the Houston Society of CPAs. In 2013 & 2014 Atkinson was named by "Accounting Today" as among the Top 100 Most Influential people in Accounting in America. In 2015, the Texas A&M University College of Business named him as an outstanding alumnus and in 2016 its Accounting Program named him to their inaugural Hall of Honor. He is also a past board member and chair of the Texas Gulf Coast Make A Wish Foundation. Atkinson received a bachelor's degree in accounting from Texas A&M University.

---
Contact and Phone Numbers
21 Ellicott Way
Sugar Land, TX 77479